H E I N Z A S S O C I A T E S , L L C
A R C H I T E C T U R E + E N G I N E E R I N G
JASPER | INDIANAPOLIS | CINCINNATI
Call us today at
513-706-0562
to speak with a professionally licensed architect or engineer.
copyright 2013 - Heinz Associates, LLC
MEP Engineering

We offer complete engineering design services for mechanical, electrical and plumbing (MEP) systems for all building types from simple office or retail projects to high-tech clean rooms required for manufacturing of pharmaceuticals and medical devices. We also ensure acquisition of all necessary permits, design releases and approval of local jurisdictions.

Energy savings are a huge concern to us for any project. We offer energy audit services for any existing building. This process allows you to determine cost effective ways to improve your facility that save you money down the road by reducing your energy or water bill. Potential savings strategies include simple lighting upgrades and HVAC equipment replacement, as well as more complex solutions like cogeneration and photovoltaics. Through the energy audit process we have identified ways for clients to save hundreds of thousands of dollars annually with a reasonable investment.



We are licensed to practice in Indiana, Kentucky, Ohio, and Illinois.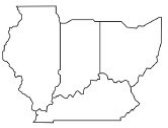 Our offices are located in Jasper, Indianapolis, and Cincinnati.
*
*
*