H E I N Z A S S O C I A T E S , L L C
A R C H I T E C T U R E + E N G I N E E R I N G
JASPER | INDIANAPOLIS | CINCINNATI
Call us today at
513-706-0562
to speak with a professionally licensed architect or engineer.
copyright 2013 - Heinz Associates, LLC
Architecture

We offer complete architectural design services from the early programming and conceptual planning stage all the way to completion of final construction documents. We also ensure acquisition of all necessary permits, design releases and approval of local jurisdictions.

During the construction phase of your project we make ourselves available to you and your builder, answering any questions that come up, reviewing shop drawings and submittals, and inspecting the work for compliance with the contract documents. We also assist with selection of furniture, fixtures and equipment (FF&E) necessary to complete your project.

In addition to standard architectural services we also perform building code review, ensuring that structures meet the necessary standards for a change of occupancy, addition, or renovation prior to clients' investment. We review historic structures and determine feasibility of rehabilitation projects. We also review facilities for compliance with the Americans with Disabilities Act (ADA) to ensure that these individuals are accommodated as required by federal law.



We are licensed to practice in Indiana, Kentucky, Ohio, and Illinois.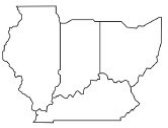 Our offices are located in Jasper, Indianapolis, and Cincinnati.
*
*
*