H E I N Z A S S O C I A T E S , L L C
A R C H I T E C T U R E + E N G I N E E R I N G
JASPER | INDIANAPOLIS | CINCINNATI
Call us today at
513-706-0562
to speak with a professionally licensed architect or engineer.
copyright 2013 - Heinz Associates, LLC
SERVICES

We offer complete architectural, mechanical, electrical, plumbing, and civil design services from the early programming and conceptual planning stage all the way to completion of final construction documents. Our drawings are thoroughly coordinated and reviewed in-house prior to bidding and submittal. As design professionals, it is our duty to protect the health, safety and welfare of the public, and we ensure that our designs will pass review of code officials.

If LEED certification is desired, we have an accredited LEED professional on staff who can handle this process, ensuring that any building meets the highest environmental standards. We also offer energy audit services for any building. This process allows clients to determine cost effective ways to improve their facilities and save money down the road by reducing operational costs. Potential savings strategies include simple lighting upgrades and HVAC equipment replacement, as well as more complex solutions like cogeneration and photovoltaics. Through the energy audit process we have identified ways for clients to save hundreds of thousands of dollars annually with relatively small investment, with or without LEED certification.

Finally, during the construction phase of a project we make ourselves available to the client and contractor, answering any questions that come up, reviewing shop drawings and submittals, and inspecting the work for compliance with the contract documents.



We are licensed to practice in Indiana, Kentucky, Ohio, and Illinois.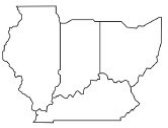 Our offices are located in Jasper, Indianapolis, and Cincinnati.
*
*
*