H E I N Z A S S O C I A T E S , L L C
A R C H I T E C T U R E + E N G I N E E R I N G
JASPER | INDIANAPOLIS | CINCINNATI
Call us today at
513-706-0562
to speak with a professionally licensed architect or engineer.
copyright 2013 - Heinz Associates, LLC
Kristin Heinz, LEED AP BD+C
Project Engineer
Kristin earned her bachelor's degree in mechanical engineering from Purdue University in May of 2010 and has been working at Heinz Associates ever since. She has contributed to many projects including MEP design for two multi-story apartment buildings in Vincennes, IN, and Mt. Vernon, IN, as well as LEED certification for the Grant Street Inn in Bloomington, IN. Kristin recently became a LEED Accredited Professional in Building Design and Construction.
contact:
812.634.9338 - office
812.630.1866 - mobile



We are licensed to practice in Indiana, Kentucky, Ohio, and Illinois.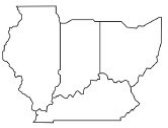 Our offices are located in Jasper, Indianapolis, and Cincinnati.
*
*
*