H E I N Z A S S O C I A T E S , L L C
A R C H I T E C T U R E + E N G I N E E R I N G
JASPER | INDIANAPOLIS | CINCINNATI
Call us today at
513-706-0562
to speak with a professionally licensed architect or engineer.
copyright 2013 - Heinz Associates, LLC
Erik Heinz, PE, CPESC
Senior Engineer
Erik began his career in engineering after graduating from Purdue University in 2000. After working in both civil and oil & gas engineering firms in the Indianapolis area, he joined Heinz Associates in 2009. Erik is an invaluable member of the team due to his broad experience in civil, mechanical, electrical, plumbing and oil & gas design. Some of his most notable contributions include the renovation of the historic Old Centrum Church in Indianapolis and various energy and water conservation projects for Cook, Inc. facilities. Erik is licensed to practice engineering in 4 states and recently became a Certified Professional in Erosion and Sediment Control.
contact:
317.407.3429


We are licensed to practice in Indiana, Kentucky, Ohio, and Illinois.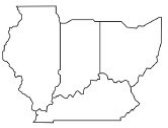 Our offices are located in Jasper, Indianapolis, and Cincinnati.
*
*
*