H E I N Z A S S O C I A T E S , L L C
A R C H I T E C T U R E + E N G I N E E R I N G
JASPER | INDIANAPOLIS | CINCINNATI
Call us today at
513-706-0562
to speak with a professionally licensed architect or engineer.
copyright 2013 - Heinz Associates, LLC
Mike Heinz, PE
President
Mike started Heinz Associates as a sole proprietor in 1985 and has been successful at growing the company ever since, by offering sound, efficient, and competitive engineering services all over the Midwest region. Most notable, are his contributions to the restoration of two historic landmarks in southern Indiana - the French Lick Springs Hotel and the West Baden Springs Hotel, completed in 1998. Both are listed on the National Register of Historic Places. He has also contributed his talents to the development of the Vincennes University campus, Crane NSWC, Cook, Inc. production facilities, as well as numerous other clients, large and small. A graduate of Purdue University and a 30+ year veteran of the construction industry, Mike continues to oversee every aspect of the firm he created.
contact:
812.634.9338 - office
812.630.3385 - mobile



We are licensed to practice in Indiana, Kentucky, Ohio, and Illinois.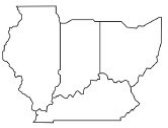 Our offices are located in Jasper, Indianapolis, and Cincinnati.
*
*
*